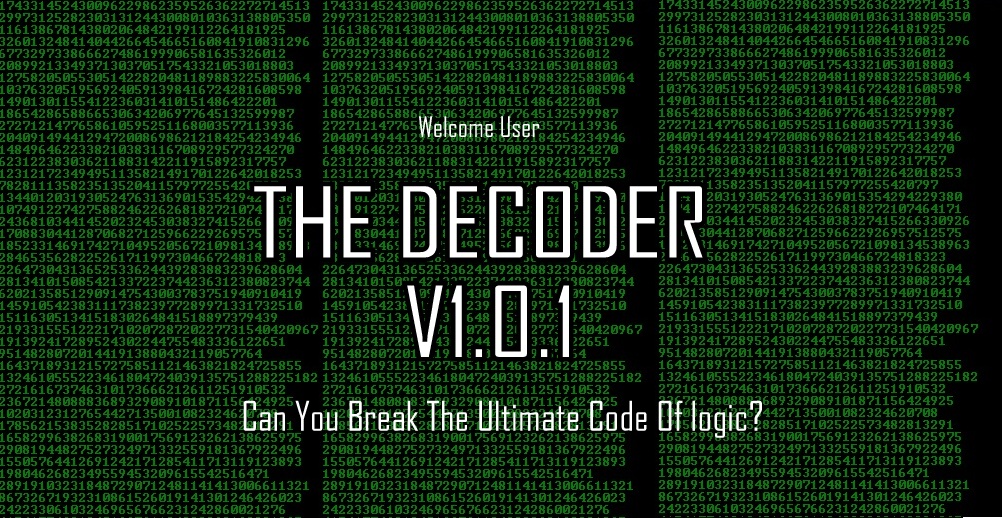 The Decoder V1.0.1
A downloadable Decoder for Windows
THE DECODER IS A GAME BASED ON COL (CODE OF LOGIC). THE MAIN OBJECTIVE OF THE GAME IS TO RETREIVE THE MEMORY OF JEFF, A CYBER FREAK WHICH GOT ENTANGLED IN A SERIES OF MULTI-SECURITY CODES DURING A SYSTEM MALFUNCTION.TO RETREIVE THE MEMORY, ONE HAS TO SOLVE A SET OF 10 BRAIN-TRICKLING LOGICAL PUZZLE QUESTIONS AND RIDDLES, AND SECURE ALL SEGMENT OF BYPASS CODES.
THIS GAME HAS BEEN SPECIALLY DESIGNED FOR PEOPLE WITH PCs HAVING VERY LOW CONFIGURATIONS, SO THAT EVERYONE CAN ENJOY PLAYING VIDEO GAMES WITHOUT LIMITATIONS. HOWEVER, DESPITE THIS LIMITATION, ANYONE WITH ANY SYSTEM CONFIGURATION CAN PLAY. ONE MORE INTERESTING POINT TO NOTICE IS THAT THE INTERFACE OF THE GAME COMPLETELY DEPICTS THE DOS COMMAND SHELL, WHICH GIVES THE PLAYER THE SENSE OF REAL HACKING.
THE BEST THING ONE COULD EXPERIENCE WHILE PLAYING IS THE SENSE OF EXCITEMENT WHILE SOLVING THE 10 PUZZLES PROVIDED, AND A DESIRE TO RETREIVE ALL CODE SEGMENTS. IT TENDS TO BE A COMPLETELY OPEN GAME FOR PEOPLE OF ALL AGE.
MOREOVER, IN THE MIDDLE OF GAMEPLAY, ONE WILL ALSO ENCOUNTER JEFF, WHO WOULD CONVEY MESSAGES THROUGH TEXTS.
I HOPE PLAYERS WILL ENJOY THIS GAME BASED ON NEW PLATFORM AND CONCEPT.
NOTE- IN THE GAMEPLAY,"Y/N" CHARACTERS ARE CASE-SENSITIVE. ONLY UPPER CASE IS TO BE USED. USE IT CAREFULLY WHEREVER NEEDED!!!!
Install instructions
AFTER DOWNLOADING, YOU WILL GET A ZIPPED FILE. UNZIP IT AND YOU WILL GET TWO COPIES OF THE GAME-
The Decoder 64-bit
The Decoder 32 bit
END USER LICENSE AGREEMENT (EULA)Run the version which your system supports.
The game will run in Command Prompt window. So, this makes this game universal for anyone to play with any version of Windows OS.
No need of graphic card or sound cards.
ENJOY!!!!!!!!!!!